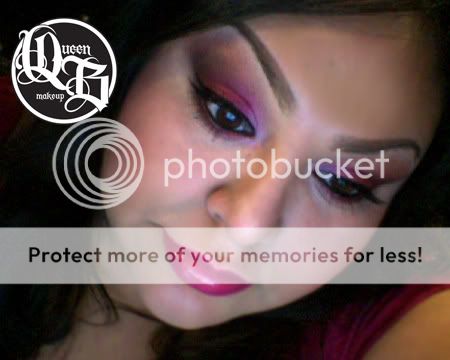 Wearing: Heavenly Natural Beauty "Love Story" collection pigments in "Kisses, Nectar, Romance, Flush, & Kiss and Tell". "Blushing 10" on cheeks, Revlon "Fushia" lipstick & NYX "Gold Pink" Lipgloss on top.
UGH! I can't wait to get a better camera. I say this because the photos clearly don't show the beauty of each of these pigments. I really can't wait to show the real colors in a YouTube tutorial. I couldn't wait to try this gorgeous collection once Rene' told me about it and I was honored for her to send me both parts for review and swatches. She also said to always provide a honest review since it's great to hear feed back. I love that because constructive criticism makes people grow.
You will probably see me doing a lot more YouTube tutorials coming up in the future using these. I know not everyone has these, but seriously once I find a product I love & is easy to use.. I use it often. I always rave about Heavenly Naturals since I found the company a few years ago. I'm always impressed with Rene's pigments and affordability. I'm always the kind of girl who wants more for less and really when I drop $50 dollars I get amazing amount of products.
I was still loving her latest collections (Peacock & Iridescence) Look forward to tuts with those too! This new collection is just as worth it. Each color is so gorgeous and original. It's not flat like some colors you can buy. Flat colors are great but I love original multi-dimensional pigments. Take for instance "Captured", when I first saw the color in the jar it looks GREEN! but really it comes off green-purple and is amazzzzing!! Tulio loves color just as much as I do, since we are both artists and he loves to paint. I love to show him pigments when they come in to compare. Each time he always says "Rene's pigments are the best colors you've got" and he's right. Seriously.. awesome product and originality. That means a lot in a market with all the same products.
I really can't say anything bad about these pigments. Each jar comes individually plastic wrapped for safety. There is a stiffer and sticker stopper on the stiffer to stop fallout. Jars are clear to see each pigment color clearly. She also placed the name & ingredients on each of the jar lids. There isn't any mattes in this collection, and I figured so with the name being "Love Story" .. you gotta have glittery colors! Each color is extremely blendable and easy to apply. You won't have any issue pairing up any of these colors together. As you can see from a few of my looks posted I combined each parts of the collections and they look amazing! you can really come up with some awesome color combos, just as original as her pigments.
I highly suggest you check out these collections and her previous collections to this for the Holiday's. They are affordable, long lasting, original, amazing and you get tons of product even in the samples!
Holiday SALE!!
Full sized pigments $37.00 each Part Series
Sample sized pigments $ 15.00 each Part Series
PART 1:
Wearing: Heavenly Natural Beauty "Love Story" collection pigments in "Giggles, Nectar, Kiss n Tell & Kisses". "Blushing 10" on cheeks, Wet & Wild "903c" & Graftobian Lip palette in "Kiss me & Nude
"
Part 2:
To purchase FULL SIZED collections visit these direct links:
Full Size Pigments Part 1
Full Size Pigments Part 2
To purchase SAMPLE SIZED collection visit these direct links:
Sample Size Pigments Part 1
Sample Size Pigments Part 2
To Visit the Direct Link to her site visit here:
Heavenly Natural Beauty